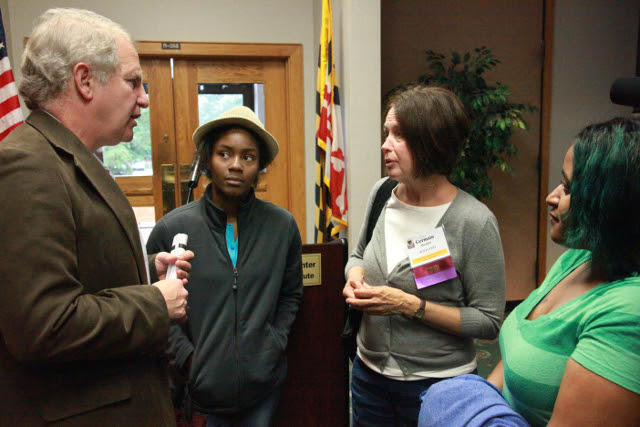 U.S. Department of Labor Deputy Secretary for OSHA Jordan Barab speaks with Western New York COSH Executive Director Germain Harnden and 7-11 workers and safety advocates Misteke Fomby and Yasmin Colon.
"In a new blog, Dan Neal of WYCOSH reports from last week's annual gathering of health and safety advocates, union activists, and worker center representatives, saying that advocates must push regulators to improve and enforce worker protections. Dan writes:
Ensuring that U.S. workers return home from work healthy and in one piece requires pushing OSHA and other agencies to do more at the state and national levels to improve standards and aggressively enforce them. Meanwhile, health and safety advocates and workers must speak out loudly for worker rights, especially to protect workers who simply report safety problems at their jobs and to protect whistleblowers who reveal criminal behavior.
Those points were discussed last week in Baltimore at the 2015 National Conference on Worker Safety and Health. More than 270 workplace safety and health activists representing local COSH (Council for Occupational Safety and Health) groups, unions, worker centers, community-based organizations, and academics from around the country attended the conference.
"We covered topics ranging from basic worker rights to criminal prosecution for scofflaw employers, to art and culture in health and safety," said Mary Vogel, executive director of the National Council for Occupational Safety and Health, which presented the conference.