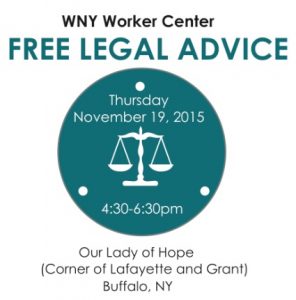 Because legal advice is a right, not a privilege…
The Free Legal Advice Clinic
What
The Free Legal Advice Clinic is free of charge and open to the public. Lawyers will be on hand to discuss issues and give advice on any issues you have questions about. Typical issues include employment conditions/issues, landlord issues, and consumer debt issues, but are not limited to those.
Who
The Clinic is hosted by WNY Council on Occupational Safety and Health (WNYCOSH), the WNY Worker Center, and PUSH Buffalo. Volunteer attorneys also come from a variety of organizations.
Where
Our Lady of Hope church on Lafayette Ave. near Grant St.
When
The Clinic is on Thursday, November 19th, from 4:30-6:30 p.m. It is a walk-in clinic – first come, first served.
Questions
Any questions, please call Marshall at WNYCOSH at (716) 833-5416