WNYCOSH has begun a series of trainings at the
Food Bank of Western New York
. The Food Bank is a non-profit with a simple mission: to provide food to the hungry in Western New York in a dignified way. The trainings focus on the warehouse staff but will help the entire facility, especially with pervasive ergonomic and repetitive motion hazards. "We are always focused on worker safety," says President and CEO Marylou Borowiak. "41,000 families rely on us for their food. If someone is not trained properly or provided the proper equipment, we aren't able to be the best we can be for them."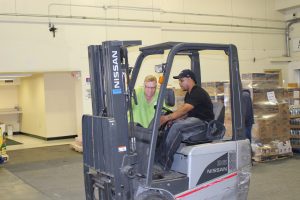 The Food Bank uses a temporary agency to staff its warehouse and has a policy of hiring the workers directly after a three-month vetting period. The Company also uses a rotating internal safety committee. Warehouse and office workers comprise the committee and make decisions to best promote a safe workplace. Kieran Wilder, the Food Bank's Coordinator, a member of the Safety Committee, and an occasional warehouse fill-in originally reached out to WNYCOSH to provide the trainings. "I have a long history in the workplace safety movement," says Wilder. "My mother has been a part of the Rhode Island COSH for years, so ensuring my co-workers and I are properly trained is a top priority."
WNYCOSH will be training sixteen warehouse and other workers and around 40 staff will be trained on back safety, resulting in over 100 training hours for the Food Bank and potential for regular trainings. "It's refreshing to see an employer who values their
workers like this," said Staff Trainer, Tom Dmochowski while prompting a worker to toot the horn while reversing a forklift.
This observation comes as many companies, in stark contrast to the Food Bank, allow workers to languish in a
temporary status for years
. It can act as a second tier of employment. These workers are often denied sick time, health insurance, vacation, pay increases, or other benefits. Temp workers are also not given training by the temp agency, even though they are the actual employer and responsible for worker safety and the workers' compensation insurance while on site.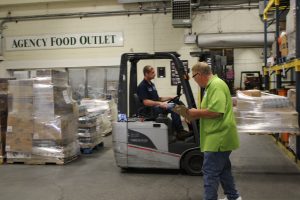 When asked, two warehouse workers, Robert ("Wojo") and Mike affirmed, saying the agency provided no safety training prior to or while working on site. "There was no training or driving test, only a written test," Wojo said of the agency. Mike found it more troubling as a temp at another job in 2012, where he was working on a raised catwalk with no fall protection, on a conveyor belt traveling too fast, and forced to remove belt jams without proper
lockout tagou
t procedures to prevent the belts from starting up while his hands were inside. The lack of safety procedures remained even though two years earlier, in 2010, an employee had his arm severely lacerated by the conveyor belt (OSHA Lockout Tagout violation) and another employee lost his leg in the same way in 2003.
However, employers may be less able to avoid liability after a recent ruling from the National Labor Relations Board. The decision in the 
Browning-Ferris
 case is expected to make the joint employer test much easier to overcome. The Board issued a statement saying "[w]ith more than 2.87 million of the nation's workers employed through temporary agencies in August 2014, the Board held that its previous joint employer standard has failed to keep pace with changes in the workplace and economic circumstances."
In order to learn more about the latest decision from the NLRB and what it means for workers and employers, please join us at WNYCOSH's Health and Safety Committee meeting on September 15th from 5-6pm at SEIU 1199, 2421 Main Street, Suite 100, Buffalo, NY 14214.