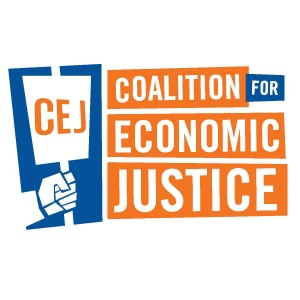 The WNY Worker Center joined hundreds of leaders and activists at the annual Coalition for Economic Justice banquet on May 8, 2014 to receive the Norm Harper Labor Award.  Norman Harper worked as a janitor in the TRICO plant in the 1980's and fought for his own civil rights and the rights of his co-workers. After years at TRICO he took an exam which would allow him to become a tool and die maker, a better position in the company. After taking his first exam, his white managers told him he failed. Not stopping there, he took the test again and after testing high was told again that he had failed the exam. Norman Harper began fighting back and insisting on his right to obtain the job. With effort and involvement, Mr. Harper went on to become the first African American die maker at TRICO.
WNYCOSH dedicated its office space to Norm in 1993, shortly after he passed away. This award means a great deal to WNYCOSH and the Worker Center.
With support from community groups, labor unions, area Department of Labor and OSHA reps, health professionals and attorneys, workers lead their effort to achieve safe, healthy and dignified working conditions. WNYCOSH is proud to stand with CEJ; its longtime community ally and initial collaborative partner with the Worker Center.
If you have a problem at work, call us at 716-833-5416 or text 877877 to report a problem and talk to an organizer.