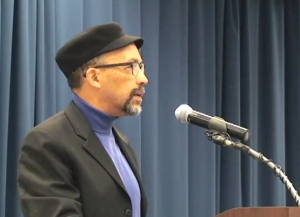 Bill Fletcher, Jr.—director of field services for the American Federation of Government Employees—is a leading labor, racial justice, and social justice activist and writer. He is a Senior Scholar with the Institute for Policy Studies, has served as president of the TransAfrica Forum—a nonprofit group that works to improve foreign aid to African and Caribbean countries—and helped to establish the Black Radical Congress, which espouses economic justice and human equality.
Within the labor movement, Fletcher is perhaps most well known for his advocacy of worker centers. The modern crisis of labor concerns the massive decline of private sector unionization, and efforts to revitalize campaigns and organizations that fight for worker rights and protections. Unfortunately, contemporary American businesses have, to a great extent, shifted to the use of temporary and part-time work to cut labor costs. Organizing workers in these low-wage, low-skill positions is difficult, given their lack of bargaining power and the ease with which they can be replaced. To complicate matters, they arguably need union protection more than all other labor groups in the U.S., in that they face among the most serious and egregious rights violations that harm American workers. Fletcher realized that worker centers—organizations that provide workers with health and safety training, information regarding their rights, and access to resources that workers can turn to if they have been wronged by employers—are essential to undermining the abusive exploitation of vulnerable workers who cannot unionize.
The Western New York Worker Center project, through the Western New York Council on Occupational Safety and Health (WNYCOSH) is one worker center that endeavors to help low-wage, immigrant, and refugee workers in the face of employer wrong-doing. By offering these workers health and safety training, worker rights education and modes of recourse when they have been mistreated, WNYCOSH advances Fletcher's vision by protecting the working people of Western New York.
WNYCOSH is pleased to announce that we, along with the Western New York Area Labor Federation (WNYALF), are bringing Bill Fletcher to Buffalo this March. It is high time that we honor Bill Fletcher by showing him the impact of his work on Western New York.
UPDATE:
Bill Fletcher's speech is now available via YouTube: