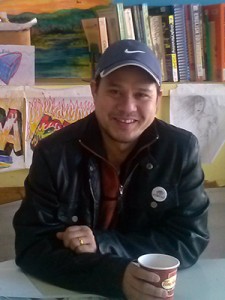 Place of Origin: Burma
Occupation: Laundromat
This is Zaw Win. Zaw is a refugee from Burma. He fled his country nearly a decade ago as a young man amid global conflict and was captured as a slave in Thailand. He made it to the United States and was resettled in Buffalo, NY in 2005. He has worked several jobs, ranging from car wash worker, restaurant to factory worker.
After years of enduring wage theft and unsafe working conditions, Zaw started a Laundromat in 2010 that has become utilized as a community center named the WASH Project in the heart of one of the largest refugee community neighborhoods in the city of Buffalo.
He is committed to helping uplift his community in many ways—including helping resolve problems at work. Zaw approached the WNYCOSH Worker Center in 2014 because so many members of his community were facing wage theft, discrimination, and health and safety issues on the job. The Worker Center began setting up worker clinics at WASH and has spoken to dozens of workers working in low wage jobs. Zaw translates in English/Burmese to communicate the workers' stories. For many of these workers, the Worker Center clinic is the only way that workers hear about their rights on the job and the laws that protect them. Many refugee workers are treated differently than other workers because employers can use cultural and language barriers to exploit workers more easily.
The Worker Center has brought Burmese workers in front of the NY state Department of Labor to hear about the issues of rampant wage theft in restaurants, discrimination and denial of days off or breaks at work in a range of work industries and to hear workers' fears of speaking up when they feel wronged on the job. Zaw and his community have endured slavery, persecution for their views and in some cases, incredible loss of family members who were killed in military conflict in war-torn Burma. This community is a large part of Buffalo and continues to fight for economic stability and dignified jobs so that they may make a new life in America to provide for their families.